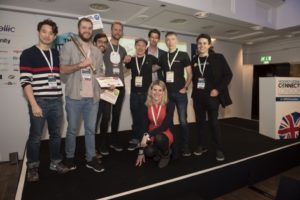 This year was sponsored by the likes of Applovin, Kwalee, Rollic, Flowplay, AppOnboard, Plug In Digital and Space Ape Games,The Very Big Indie Pitch saw 28 mobile developers take to the floor to pitch their games to a whopping 8 tables comprised of 16 expert judges.
From cats armed with explosives to stem cell science, and even as far as helping as many cute little creatures known as Zacks as possible, this pitch had some of the highest quality we've seen at one of our events. Of course, this meant we were left with some amazing finalists and a record-equaling winner, as Mousetrap Games joined the prestigious club of developers who have won twice with two different games.
So, if you're interested in learning more about not only the winner but the whole top 5, simply read on below.
First place – Rocat Jumpurr by Mousetrap Games
What happens when you mix cute cats with explosive weaponry? Well, you get Rocat Jumpurr of course. Rocat Jumpurr is a 2D platformer where your goal is to use all your explosive might to take down the many enemies of the cute and cuddly felines, such as mice, cucumbers, and of course the common pigeon.
Designed with simplicity and random fun in mind, players must utilise the bazooka weapon itself to help with movement, as the recoil will send you flying in all sorts of directions. That's not the only challenge in the gameplay though, as alongside navigating the level via the explosions, the game also utilises a randomly generated roguelike style of level design to keep the game constantly fresh.